Current Projects
WMVS Children in Care Foundation prides itself on partnering with national projects to provide the best opportunities for our young people.
See below for the latest Partnership Projects.
Women & Theatre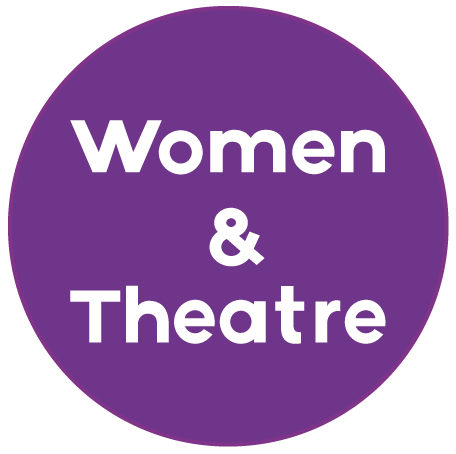 Women & Theatre is a charity that exists to create exciting drama projects about things that matter. We produce high quality new theatre of contemporary relevance reflecting the lives and experiences of ordinary people.
Moving On Films
Moving On is a creative project co-delivered with care experienced young people. The project aims to make changes, break stereotypes and prepare young people to leave care. Together with our core group of care experienced young people, we explore important issues to do with the care system and the care experience, through creative and theatre-based work.
Things I Wish I'd Known
Together with our group of care experienced young people, we have created a series of short films sharing practical tips and advice about living independently, called Things I Wish I'd Known. Each film topic was inspired by discussions, workshops and the creative ideas of the group, and each one aims to share things they wish they'd known when they were preparing to live independently.
What Cannot Be Asked in an Interview
It's important to know your rights when you go into an interview. This film highlights there are certain things you can't be asked, particularly if it's about your protected characteristics.
Talking Helps
Sometimes things can get on top of you, and you don't know where to turn. This film is a reminder that help is out there, and talking to other people really does help.
To find out more about Women & Theatre please visit https://womenandtheatre.co.uk/project/moving-on-films/
Find out about current projects here
ON THE WATER WITH SEA CADETS 2022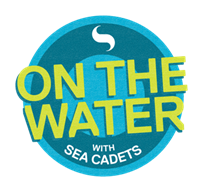 The On the Water project will give some 1,200 children and young people, across 3 locations (Birmingham, London, and Liverpool) and the Black Country the chance to experience the thrill of water-based adventures and earn qualifications this summer. This year's programme is offering young people aged 9-14 a chance to try out sailing, paddle sports and much more, free of charge. All the young people need to bring with them is a change of clothes, packed lunch and a willingness to take part, we cover everything else.
Through this outreach project, we hope to encourage young people to progress themselves by gaining national accredited qualifications as well as the chance to make new friends from their local area, boost their self-confidence and expand their horizons. The qualifications are all entry level sporting qualifications in the relevant discipline, these are accredited by the Royal Yachting Association (RYA) for sailing and British Canoeing for kayaking/canoeing.
Book here:
01 August 2022: https://www.eventbrite.co.uk/e/345625203287
02 August 2022: https://www.eventbrite.co.uk/e/345625955537
Black Country Rainbow Hour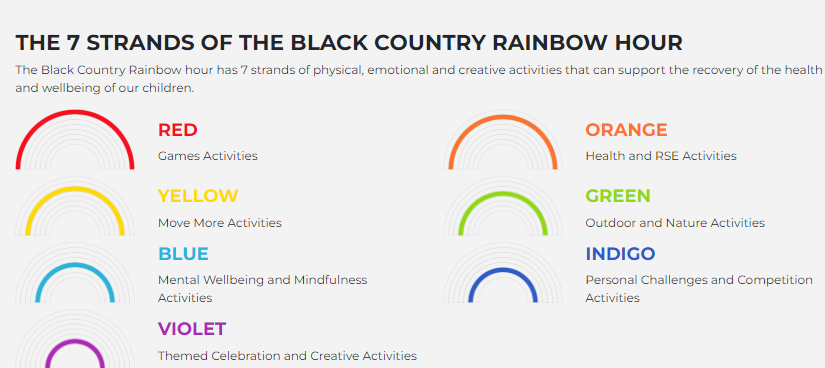 The latest Rainbow Book plays host to a Commonwealth Games theme which includes a variety of activities linking to the Games and are underpinned by the 7 themed Rainbow Strands.

An Eco-Friendly activism project for primary schools across the Black Country supporting school's sustainable recovery. The programme provides training, guidance and resources to enable a group of pupils to supports the schools work across the 7 themed areas from the Black Country Rainbow Hour. Each warrior will receive training and be provided with resources for them to carry out a range of tasks across the school over the course of a term. The project will also provide training for a nominated lead from the school enabling them to implement the project across school with support from Active Black Country.
Download your rainbow hour pack here
Dudley Music Tech Project
Are you interested in making your own music using state of the art computers and resources? Have you ever wanted to lay down your own beats and rhymes?
Our music tech sessions are available for secondary age students and take place at Resonance Music Institute, Cable Plaza, Waterfront West Brierley Hill, DY5 1LW. There's no cost to take part but you do need to contact us to enrol and get more information.
For further details and to book a place please contact claire.pennycooke@dudley.gov.uk